Free Patterns for Community Quilts
(Courtesy of Marty Frolli)
Quilts
Other Projects
---
Community Quilts
Past Years
2013 - 2015 Community Quilts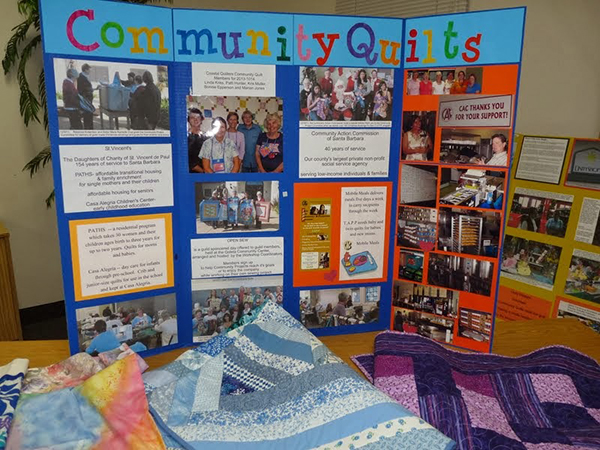 Serenity House Shroud Presented



Coastal Quilters Guild Presents Special Gift to Visiting Nurse & Hospice Care's Serenity House

Noozhawk article

Casa Magazine article

"What's Right With Your Community" sponsored by Union Bank and aired on local TV

Presenting Quilts to Visiting Nurse and Hospice Care are: L-R: Arlene Stepputat, VNHC; Marian Jones, Community Quilts Chair, Carol Barringer, Bonnie Epperson, President.

VNHC Veteran Pinning Ceremony
Photos Courtesy of Visiting Nurse and Hospice Care

These photos, shown at the November 2014 meeting, show four veterans with their quilts which were presented during their "pinning" ceremonies.

These red, white and blue quilts, made by members of the Coastal Quilters Guild and donated to Visiting Nurse and Hospice Care, mean a great deal to these veterans. One veteran's dying wish was to be buried with his quilt; others become a cherished family heirloom when the veteran has passed away. During the last months of their lives, the veterans are honored and warmed by these quilts made and donated by our members.

You can read more about this ceremony in our January 2015 Coastlines newsletter. For more information on VNHC, go to vnhcsb.org
**********************************************************************************************************

As Community Quilts we work hard all year making kits for the guild members to complete, then we distribute to Santa Barbara Hospice, Unity Shoppe, Transitition House, Bethel House (Rescue Mission), Meals From the Heart, Meals on Wheels, and CALM.

We have solved the problem of space by getting together at our homes, but space is still an issue. We are proud of the work that each of you do, and the best reward is making deliveries with so many beautiful quilts. The appreciation is overwhelming.

Please let us know if you need batting, fabric, directions, help, or anything else to assist you in completing your project. We have a wonderful team and would love to help you.

~ Marian Jones, Bonnie Epperson, Carol Barringer, Linda Kris, Kris Mueller, Patti Hunter

If you have any questions, please call or email:
Marian Jones
Community Quilts Chair
COMMUNITY QUILTS PROJECT FAQS
Most Frequently Asked Questions
Are we making quilts for babies, children or adults this year?
We're donating quilts for recipients of all ages. Our sponsored agencies include Hospice and Visiting Nurses, Hillside House and Unity Shoppe.
What quilt sizes are needed?
We are making wheel chair sized quilts for Hillside House. Approximate size is 36" X 45". We will accept any other size quilt. Those quilts will go to Hospice or Unity Shoppe.
3. Do I have to use a kit?
No, you may use your own fabric. We will do our best to provide batting and some quilt backing fabric.
May I change the fabrics in the kit?
Yes, please feel free to add or substitute fabrics from your own collection.
Should I return unused kit fabric?
Return any remaining fabric if it is ¼ yard or larger. Please return the plastic bag and patterns.
Must I use a specific pattern?
Please feel free to use any pattern which appeals to you. We have several patterns for your use.
May I tie the quilt?
Because of its intended use, please hand or machine quilt your donation. Nancy King is still offering to machine quilt for a fee of $45 for CQ Projects. She can be reached at 687-2063. Her website is www.sbcustomquilting.com
Do I have to wash the quilt?
Yes! The quilt should be washed after it is made and needs to be free of scent.
When are the quilts due?
The quilts for Hillside House are due at the June Guild Meeting.
The other quilts will be distributed at various times during the year.
How do I label the quilt?
Please attach guild labels which are provided with your kit or available at the Guild Meetings.
Should you find that you do not have time to make this project, please return the kit.
If I have any other questions, whom should I contact?