2008 - 2009 Community Quilts

View Presentation to Teddy Bear Cancer Foundation

Becca Solodon, Teddy Bear Foundation representative


Co-Chairs Lou Ann Smith and Jeanne Surber


A Message and Photo from the Teddy Bear Cancer Foundation:

"We just gave away the first quilt to the CUTEST little boy who loved horses. He was so excited when he saw the horse quilt. His whole face lit up!

Thank you all so much for the amazing work you have done. Everyone who comes into our office and sees them is completely blown away!"
~ Becca Solodon


Lou Ann Smith and her son Paul Sinicrope
"Being Community Quilts co-chair has been the most gratifying position I have ever held. Over 200 quilts for the Teddy Bear Cancer Foundation- what an awesome testimony to the love and care guild members have as they gave generously of their talents. Thank you!!!"
~ Jeanne Surber

"In addition to Jeanne's observation, I wanted to say how very impressed I was with the quality, diversity and creativity present in the 214 quilts we collected this year. It is a real testament to the love and effort our members lavished on this project. Thank you to all those who so generously donated your time."
~ Lou Ann Smith
*********************************************************************
The Guild has selected the Teddy Bear Cancer Foundation as the recipient for our Community quilts for this fiscal year. The Teddy Bear Cancer Foundation is a local organization that was inspired by a three year old boy diagnosed with Ewing Sarcoma. Two years later, he suffered a relapse. One day his mother broke down in tears as she shared the hardships she and her family had faced. She spoke of unplanned and extended hospital stays, expensive medications, sometimes costing as much as $1,000.00 after insurance. Furthermore, she shared the dilemma of giving up her income in order to care for her son and accompany him on hospital stays.
The Teddy Bear Cancer Foundation was founded to ensure that children with cancer receive the undivided comfort of their parents during the treatment and recovery process. They achieve this by providing middle- to low-income families with financial aid for rent, mortgage, utilities, and car payments, as well as other supportive services, thereby allowing families to focus on what is truly important – their children.
Since this is a very difficult time in the life of these children and their families, a quilt will be a small comfort that we can provide to show them that someone, even someone who is a stranger, cares for their health and well-being. The thought is as valuable as the quilt itself.
We will be making quilts of all sizes, but are providing guidelines for three main sizes: 36" X 36" for babies, 36" X 45" for children, and 45" X 60" for teens. Kits of fabrics and batting are available to Guild members at our regular Guild meetings. Come and check out our beautiful fabric or use that extra fabric from your stash and make one of your favortie patterns or try something new.
If you are interested in making a quilt for Community Quilts this year, please refer to the Frequently Asked Questions document, and the Kit Instructions.
Kits ready to be made up into wonderful quilts.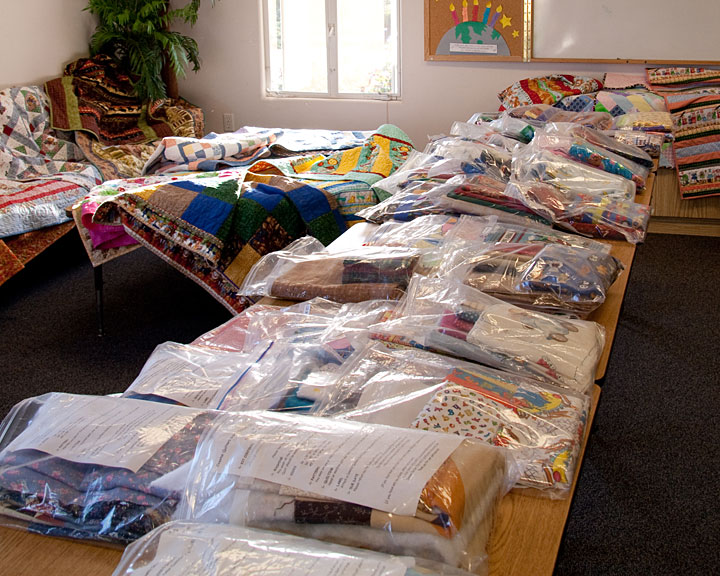 The first donated quilts for the Teddy Bear Cancer Foundation.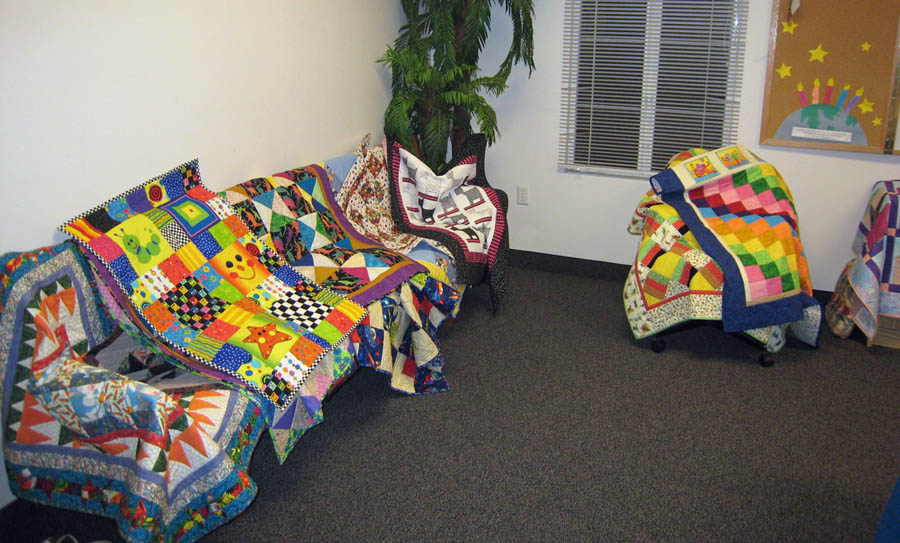 An impressive number of quilts completed by members.