2009 - 2010 Community Quilts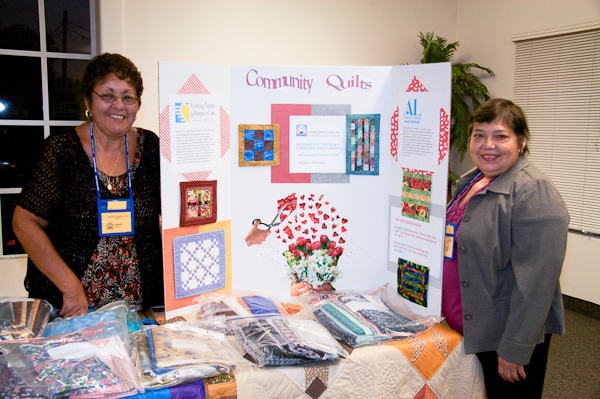 This year the Guild has selected two different agencies to be the recipients of our Community Quilts Project - Hospice and the Fostering Friends Project.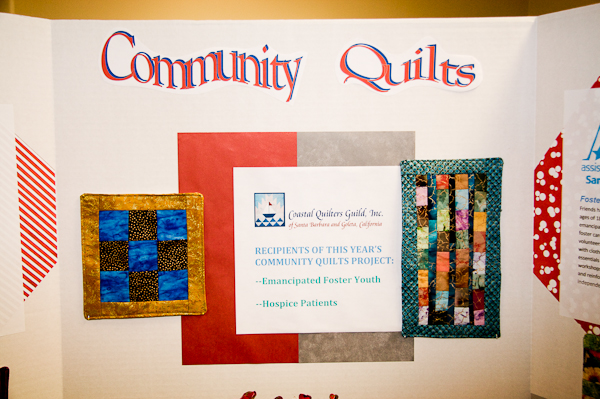 Hospice, as we know, works to bring support to individuals who are nearing the end of their life and assists their family members through their loss. Hospice is appreciative of quilts of all sizes as they service every age group. If you might be thinking about a lap quilt for a wheelchair, the size should be 36" x 60". You might also consider creating a narrower quilt to be used as a shawl.
We are also working with the Assistance League of Santa Barbara's Fostering Friends Project**. These quilts are being requested for teenagers who are in the process of leaving foster care as emancipated adults. The Assistance League works to provide them some very basic items which are presented at an annual June ceremony, acknowledging this life change. Our donation will be part of a package to get them started in independent living. The Fostering Friends Project coordinators shared that the quilts are treasured by the teenagers and make their way to the top of their bed. For this Guild donation, we are using 50" x 70" as a large lap quilt guide.
At our September meeting, it was exciting to have such a warm, enthusiastic response to the Community Quilts Project. Thank you for providing fabric, offering to donate quilts and taking kits that will challenge your creativity. Based on your requests, we will do our best to provide batting and some backing fabric. If you don't have time to make a quilt from beginning to end, look through your UFOs. You might find the perfect piece begging to find a home through our Community Quilts Project.
Both Hospice and the Assistance League are working with individuals who are in major life transitions. Again, thank you for supporting these agencies' work. Please click on the FAQ sheet for more details.
~ Co-Chairs: Yolanda Garcia and Louise Salgado

"No matter how insignificant what you do may seem, it is important that you do it." - Gandhi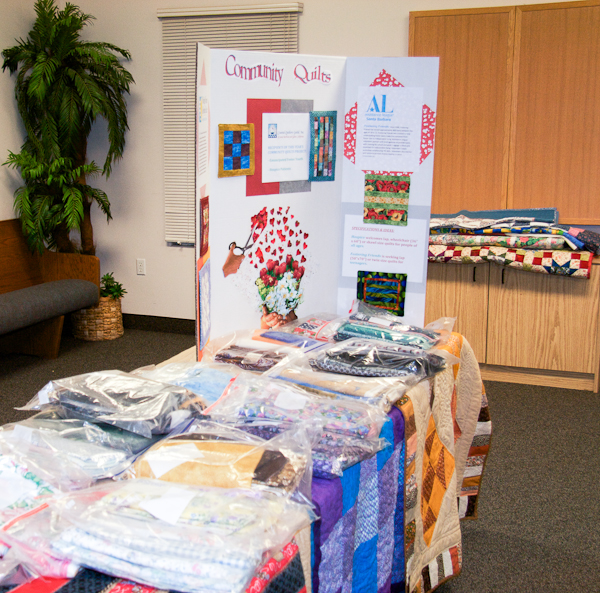 **More on "Fostering Friends" from their 2008/09 Annual Report
FOSTERNG FRIENDS (4/14/09) Fostering Friends has evolved and grown in new directions this past year. ALSB Fostering Friends committee is still serving the emancipating youth in Santa Barbara County along with service to CASA (Court Appointed Special Advocates), La Morada (a facility for homeless young adults, opened in 2008) the Santa Barbara County Emergency Shelters and service to Domestic Violence Solutions (formerly Shelter Services for Women). This year we have also supplied needed baby items to Angels Foster Care.

Fostering Friends is serving needy youth from ages 0-18 along with their families. The needs of these families are growing every year in our community. The committee had meetings roughly every 8 weeks to plan for the needs; this program also requires action on a short notice basis when children are brought in to the system in emergency situations.
During 2008-2009 Fostering Friends served well over 200 youth and families with the following services:
* Wheeled duffle bags were given to at least 40 youth filled with items that included; throw blanket, towels, cookbooks, date books, stamps, clock radios, toiletries etc.
* Graduation party at the ALSB chapter house to present the bags and honor the youth as they graduate and begin lives in the adult world. Pizza, salad and dessert are on the menu.
* Seniors were clothed with each youth receiving school clothes of their choice.
* Graduating seniors were given $100.00 each to shop at Ross in the spring to prepare for job interviews. Committee members assisted in the purchases and advice.
* Santa Barbara County Emergency Shelters was again served with diapers, toys and clothing for children removed from their homes.
* Household items and furniture items were provided to La Morada- a home for homeless young adults in Santa Barbara. Christmas stockings filled with age appropriate items were delivered and very well received.
* Foster youth were invited to attend 'Operation Prom Dress' with several sessions planned to begin in about 1 week from the date of this report.
* Hundreds of baby clothing items and baby care items were delivered to Angels Foster Care- a local foster care program for infants through age 2.
* A project to landscape the back yard at one of the emergency shelters began with the purchase of a play ground set to be installed in the spring of 2009, we hope to be able to continue this effort with the budget of 2009/2010.
The ALSB budget for this project this year was $20,500.00. The budget for next year is to remain the same. This program continues to serve a need in the community, and we expect the need to continue growing.
Caryl Bowman and Meredith Scott Co-Chairs, Fostering Friends 2008-2009, ALSB
---