2015 - 2016 Quilts

for Veterans
Visiting Nurse & Hospice Care (VNHC) provides Hospice care free of charge to people in the last months of their lives. VNHC partners with the national "We Honor Veterans" program to present veterans in their Hospice care program with a "pinning ceremony" in which a veteran is thanked and honored for their service. VNHC requests quilts of any size for their Hospice patients, and red, white and blue quilts for the veterans' pinning ceremonies. The Sew for Veterans Project has been focused on making these quilts, aiming for 75 patriotic quilts by Veterans Day/November meeting.

A slide show of all 93 quilts made for the Sew for Veterans Project can be seen below or click on the link in the top left corner of this page. We will continue to make Hospice and veterans quilts throughout the 2015-2016 year.
~~~~~~~~~~~~~~~~~~~~~~~~~~~
Mary Ringer and Carol Barringer deliver 58 Veterans' Quilts to
Visiting Nurse and Hospice Care, bringing the total for the project to 93 quilts.

Santa Barbara News Press 11/10/15:

From Easter Moorman, Director of Marketing, Visiting Nurse & Hospice Care:

Together with the Coastal Quilters Guild, we are today's cover feature story of the Life section of the SB NewsPress.

Special thanks to our very own Arlene Stepputat and Ilona Varner, and to Coastal Quilters Guild Community Chair Carol Barringer for helping make this story happen, and for their deep passion for supporting our veterans in our community.

To read the story, please click HERE.
Here is a slideshow of all 93 quilts made for Veterans.
Click Here to view.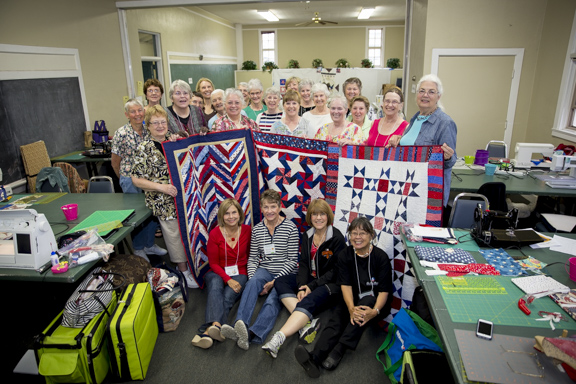 Photo courtesy of VNHC/Emily Hart-Roberts.
~~~~~~~~~~~~~~~~~~~~~~~~~~~
July 14, 2015 Quilt Delivery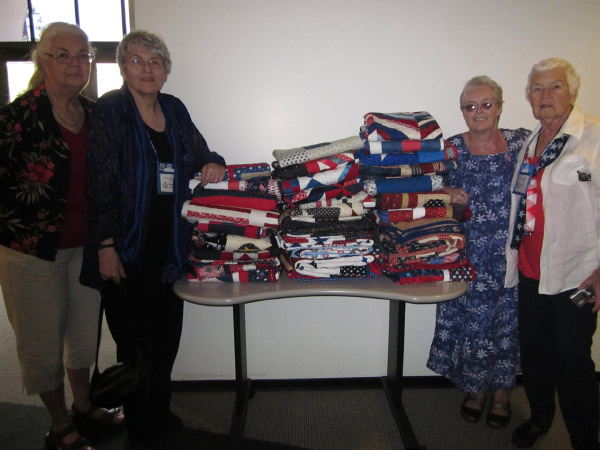 L-R: Mary, Bonnie, Carol, Patti
VNHC received 35 quilts.
Quilts Completed for the Project by Just Friends Satellite Group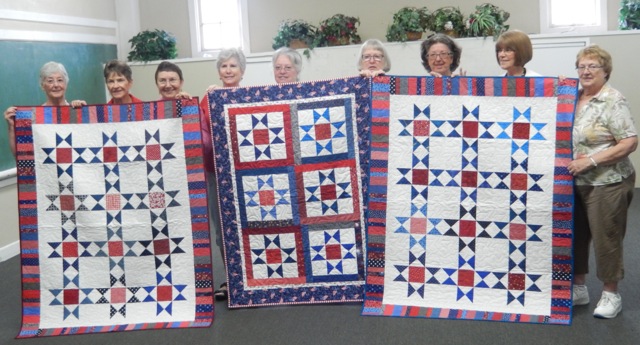 L-R: JoAnn, Marilyn, Patti, Marty, Linda, Nancy, Sue, Rochelle, Elizabeth
To make this quilt: See Patriotic Ohio Star pattern in the far left column.
Quilt made by the Greatful Threads Satellite Group (pattern by Marianne Fons)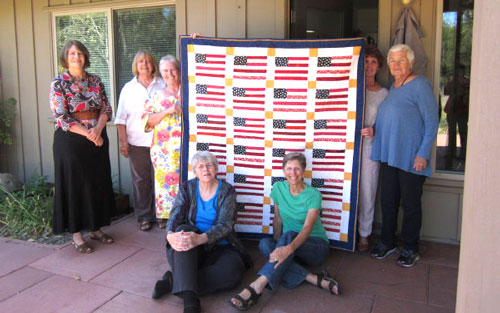 L-R: Barbara, Margaret, Carol, Bonnie, Kris, Kristin, Patti
VNHC Veteran Pinning Ceremony
Photos Courtesy of Visiting Nurse and Hospice Care

These photos, shown at the November 2014 meeting, show four veterans with their quilts which were presented during their "pinning" ceremonies.

These red, white and blue quilts, made by members of the Coastal Quilters Guild and donated to Visiting Nurse and Hospice Care, mean a great deal to these veterans. One veteran's dying wish was to be buried with his quilt; others become a cherished family heirloom when the veteran has passed away. During the last months of their lives, the veterans are honored and warmed by these quilts made and donated by our members.

You can read more about this ceremony in our January 2015 Coastlines newsletter. For more information on VNHC, go to vnhcsb.org