Making a Quilt Label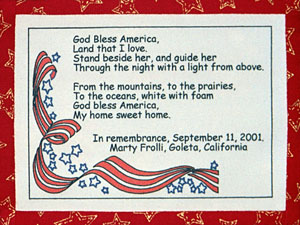 Why include a label?
History for your family and quilt historians . Identification if lost or stolen
What to include on your label:
Name of your quilt
Your name
Address (at least city/state)
Date of completion (at least year)
Optional:
Name of recipient
Story of your quilt
Information about the quilt: Machine or hand pieced, and/or appliqued; Machine or hand quilted; Type of batting; Washing instructions
How to sew the label to your quilt:
Make a label using one of the methods listed below. Using some fabric left over from your quilt, add a narrow border around the label. Applique the label to the back of the quilt, using the blind stitch. Whether writing, typing or printing on fabric, iron freezer paper to back of the fabric to stabilize.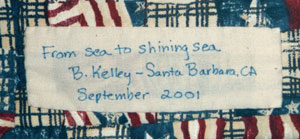 Types of labels:
Hand written label on muslin or other solid. Practice writing label on paper. Trace good copy onto muslin, using a permanent pen. The Micron Pigma pen in black or brown is a good choice.
Typed labels are permanent if the typewriter ribbon is a permanent ink.
Computer labels: Use the manual feed. Computer labels can be fun, because you can change the size and type of fonts and you can add borders and clip art. Laser printer (uses toner) labels are not permanent, but are fine for seasonal and wall hangings that are not going to be washed. Ink jet printer (uses ink) labels are permanent, after setting with a fixative, available at quilt stores and through mail order catalogs. Computer ready fabric is also available for ink jet printers.
Sewing machine stitch labels: Many machines may be programmed with words and designs to easy stitch a label.
Cross stitch labels are beautiful. They are a little heavier, due to the Aida cloth.
Embroidered labels can be lovely, especially when accented with ribbon embroidery.
Rubber stamp quilt labels are available. You must use fabric permanent stamping ink. You stamp label onto fabric and fill in your information with a permanent pen. Designs can be filled in with colored permanent pens.
Printed fabric quilt labels: These labels are sold by the yard or panel in quilt and fabric stores. You cut out the label and fill in your information with a permanent pen.
Books with quilt labels: There are books with numerous ideas for quilt labels. Some labels are cut out of the book and transferred to the fabric using an iron.
Photo transfer: Any method of label can be enhanced with photos of the quilter or the recipient.