Challenge Requirements:
The entry may be a traditional quilt or any handmade creation which includes some quilting. All entries must have a recognizable heart on the front of the entry. This can be done using fabrics, thread, quilting motif, or pens/paints, etc.
Options include: garments, toys, stuffed animals, dolls, home dec, pillow, aprons, etc. There must be enough quilting to be noticed and the entry is identifiable as having been quilted.
If a traditional hanging quilt, the perimeter is limited to 144 inches (ie, 36" x 36")

It must have a 2" - 4" hanging sleeve

An entry may have multiple units (ie, apron and pot holders; hat and scarf)
Only 1 entry per member
Each entry must be labeled
Each entry must be submitted in a labeled, protective case/box and accompanied by a completed entry form
Entries will be collected at the May general guild meeting.
Challenge entries will be presented at the June 11, 2015 guild meeting
While we encourage visitors during Challenge night (free entry for guests), voting will be restricted to members only.
Entry forms available here or at the Feb, Mar, or April meetings.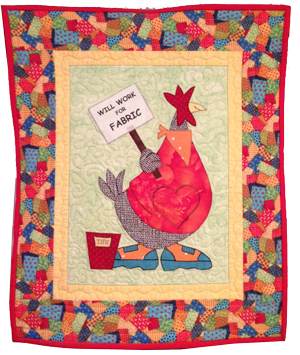 Click Here to Download the Entry Form