Challenge Quilts
Challenge 2007 - Lights, Camera, Action!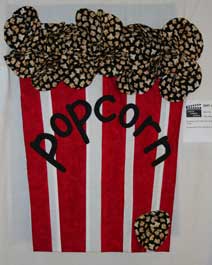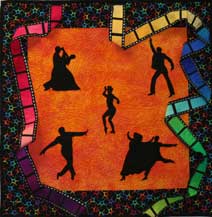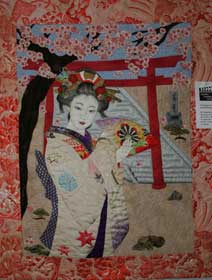 We will ALL be basking in the spotlight, cast in either starring or supporting roles of the Guild's 2007 quilt challenge, "Lights! Camera! Action!" a celebration of how films have influenced our lives, whether bringing to life historic people and events, animating our literary imaginations, whisking us away to explore the lure and mystique of exotic locales, evoking our emotions or simply reflecting our human condition.
Award-winning "Final Take" entries require the following:
"Standard Format Only" - Three layers, quilted (no "costumes" or "props" please!).
"Maximun Run time" - 120 inches in circumference (Example: 30" x 30" = 120")
"Independent Film" - Only one entry per "producer"
"Film Credits" - A label with the quilt title and your name (Extended credits welcome)
"Supporting Cast" - A 4-inch hanging sleeve
BE CREATIVE and HAVE FUN!
Co-Chairs: Judy Rys, Kathy Rose